About us
Welcome to MILITARIA 1911
わたしたちは、主としてWWII ドイツ軍とアメリカ軍、ベトナム戦争のアメリカ軍、南ベトナム軍の実物品、レプリカ品を扱っているオンライン限定のショップです。元はコレクターでしたが、ディールをする時に出会った海外のディーラーとのコネクションを発展させて世界中のファンと共有したいと思いお店をオープンいたしました。
コネクションを利用して入手困難な品をできる限りお求めやすい金額でご提供したいと思っています。良い品はマーケットに出る前に個人間で取引されてしまうことが多いためコネクションがないと難しいものです。
ぜひ、我々が力になれればと思っています。
お探しのものがありましたら、お気軽にお問い合わせ下さいませ。
当店で扱っている実物商品は、どの品も各分野において有名で信用のおける
ディーラーより仕入れた品を扱っております。ぜひ、安心してお買い物くださいませ。その中でも、たびたび来日されている世界的に有名なミリタリー・ディーラーである、ジョージ・ピーターゼン氏からの品の多くを仕入れております。彼は私のメンターであると同時に大切な友人です。他にも、ビンテージ、SFヒストリーの第一人者など素晴らしいメンターたちに支えられております。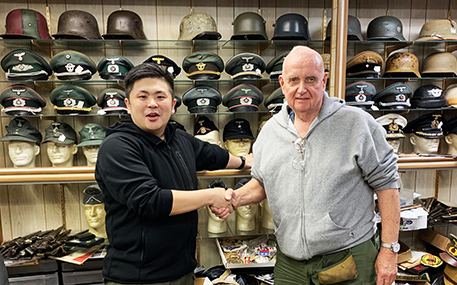 管理人とピーターゼン氏 撮影:2020年2月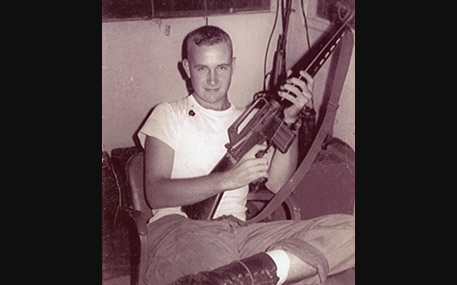 ベトナム戦争従軍時のピーターゼン氏
To our overseas customers
We are an online-only shop that primarily carries WWII Germany and USA , Vietnam War US and RVN, as well as real and replica items. I was originally a collector, but I wanted to develop connections with international dealers I met while dealing and share them with my fans all over the world. We want to make the hard-to-find items available through the Connection at the most affordable prices possible. Good items are often traded between individuals before they go on the market, so it's hard to do without connections.
We hope that we can help you. If there is something you are looking for, please feel free to contact us. Anytime is OK!!
All of the merchandise we carry is sourced from reliable dealers.
Please feel free to shop with peace of mind. In particular, we purchase many of the items from George Petersen, a world-famous military dealer who often comes to Japan. He is my mentor and a valued friend at the same time.
MILITARIA 1911.